Peter Clausen's Astro-Photo Webpage
---
Click the image below to be taken to Peter's Glimpses of Heaven webpage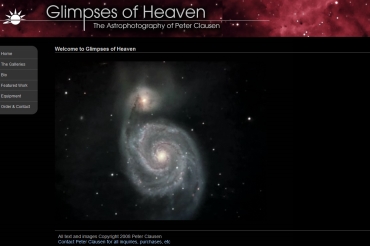 Click the thumbnail images below to see the full-size image.

NGC 4631 (Whale Galaxy) & NGC 4656 (The Hockey Stick Galaxy) in the constellation Canes Venatici
Image captured on 4/28/2010 from Cuyahoga Falls, OH.
Image details: taken with the Astro-Tech 106 and SBIG ST8300.
Total exposure time was 2 hours with Luminance filter (24 subs of 5 min each).
Mount was an Atlas EQ and guiding was through WO 66mm refractor with DSI Pro II.
MaxIm was used as software for capturing images. FocusMax was used as software for focusing.
CCDCommander was used as software for automating image capturing, focusing and control of mount.