Lenny Marek's Astro-Photo Webpage
---
Click the image below to be taken to Lenny's astro-photo webpage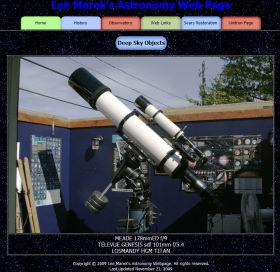 Monkey Nebula, NGC 2174 & NGC 2175
NGC 2174 is an H II emission nebula located in the constellation Orion and is associated with the open star cluster
NGC 2175. It is thought to be located about 6400 light-years away from earth. The nebula may have formed through
hierarchical collapse. Text from Wikipedia.
Image taken with the Tele Vue Genesis SDF at f/5.4 and an SBIG ST-2000XM camera using the Hubble Palette.
This is a finished product of 10x5 minute exposures in Ha, OIII and SII.